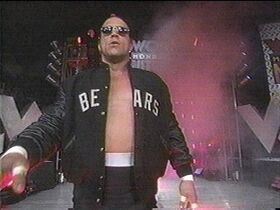 Stephen Douglas "Steve" McMichael (born October 17, 1957) is a former American college and professional football player as a defensive tackle in the National Football League (NFL), a former commentator and then professional wrestler for
World Championship Wrestling
(WCW), and is currently the head coach of the Chicago Slaughter of the Continental Indoor Football League. McMichael played college football for the University of Texas and was an All-American. He played for the New England Patriots, Chicago Bears, and Green Bay Packers, winning Super Bowl XX with the Bears. During his pro wrestling career, McMichael became a member of a version of the legendary Four Horsemen stable, and held the WCW United States Title. He made a failed run for mayor of Romeoville, Illinois in 2013.
Ad blocker interference detected!
Wikia is a free-to-use site that makes money from advertising. We have a modified experience for viewers using ad blockers

Wikia is not accessible if you've made further modifications. Remove the custom ad blocker rule(s) and the page will load as expected.