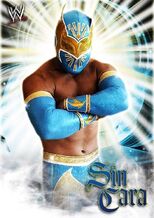 Sin Cara
is a professional wrestling character used by
WWE
and is a former NXT Tag Team Champion. Originally used by Mexican lucha libre star
Luis Urive
, it is currently used by Mexican American wrestler
Jorge Arias
. Spanish for "Without Face" or "Faceless", Sin Cara wears a lucha-style mask that completely covered his face, much like when Urive wrestled for the
Consejo Mundial de Lucha Libre
(CMLL) as
Mistico
. This is in stark contrast to other lucha stars who would at least have eye sockets and a mouth area open, such as when Arias wrestled for the
Asistencia Asesoría y Administración
(AAA) as Incognito, as well as
Rey Mysterio
, with whom the Sin Cara character has had an on-off alliance with during his WWE stint. Additionally, the lights at ringside dim to a yellow shade during the Sin Cara character's matches.
While the Sin Cara character always speaks Spanish, whether or not the character also speaks English has varied on whoever portrays the Sin Cara character. Arias's portrayal of Sin Cara is bilingual due to Jorge Arias having grown up in the United States near the Mexico–United States border, and thus speaks either Spanish or English, depending on the intended audience. However, Urive (legitimately) does not know English, and during his time in WWE often required a translator during promos.
Urive wrestled as Sin Cara in WWE from 2011-2013 and afterwards on the independent circuit in 2014, claiming ownership of the gimmick. His first international move afterwards was joining the World Wrestling League of Puerto Rico. Arias wrestled as Sin Cara in WWE briefly in 2011 during a feud with Urive, and then again from 2013 onward.
Ad blocker interference detected!
Wikia is a free-to-use site that makes money from advertising. We have a modified experience for viewers using ad blockers

Wikia is not accessible if you've made further modifications. Remove the custom ad blocker rule(s) and the page will load as expected.