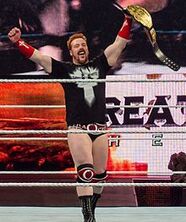 Stephen Farrelly (Irish: Stíofán Ó Fearghaile) (born 28 January 1978) is an Irish professional wrestler. He is signed to the American professional wrestling promotion
WWE
, where he performs under the ring name
Sheamus
.
Prior to joining WWE, Farrelly was a two-time International Heavyweight Champion during his tenure in Irish Whip Wrestling. He has held the WWE Championship on two occasions, the World Heavyweight Championship once, and the WWE United States Championship twice, as well as winning the 2010 King of the Ring tournament and the 2012 Royal Rumble match.
Ad blocker interference detected!
Wikia is a free-to-use site that makes money from advertising. We have a modified experience for viewers using ad blockers

Wikia is not accessible if you've made further modifications. Remove the custom ad blocker rule(s) and the page will load as expected.