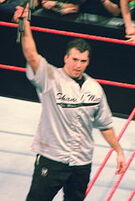 Shane Brandon McMahon (January 15, 1970),[7] an American businessman, serves as the chairman and Principal Executive Officer of YOU On Demand. He is a member of
The McMahon Family
. The former Executive Vice President of Global Media (as well as an occasional professional wrestler and referee) for the McMahon family-owned
World Wrestling Entertainment (WWE)
, he is the son of WWE chairman and CEO
Vince McMahon
and sometime United States Senate candidate
Linda McMahon
. He is also the older brother of
Stephanie McMahon
Levesque and the brother-in-law of Paul "
Triple H
" Levesque. He worked for WWE for over 20 years before resigning in January 2010.
In WWE, McMahon is a one-time European Champion and a one-time Hardcore Champion. He headlined his first pay-per-view event at the 1999 King of the Ring, and went on to become a world championship contender in the early 2000s, closing the 2000 Insurrextion and King of the Ring events in contention for the WWF Championship, and challenging for the WCW Championship at 2001's Unforgiven. He also participated in the main event of WrestleMania 2000, as a cornerman for Big Show.
On July 12, 2013, McMahon voluntarily stepped down as CEO of YOU On Demand and appointed Weikang Liu as his successor, while remaining the company's principal executive officer and Vice Chairman of the Board. He returned to WWE as an on-screen character in February 2016 where he went on to compete at WWE WrestleMania 32, co-in charge of Raw and eventually Commissioner of WWE SmackDown after the second WWE Brand Extension
Ad blocker interference detected!
Wikia is a free-to-use site that makes money from advertising. We have a modified experience for viewers using ad blockers

Wikia is not accessible if you've made further modifications. Remove the custom ad blocker rule(s) and the page will load as expected.