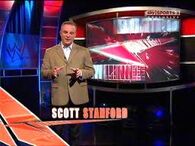 Scott Stanford
is an American sports anchor and commentator. Along with Tamsen Fadal, he was co-anchor of WPIX-TV in New York City's weeknight 5pm and 10pm newscasts until July 2014. He is currently the Lead Sports Anchor for WPIX-TV in NY and a host for various
WWE
programming.
Stanford debuted in WWE in 2009 replacing Jack Korpela as the host of WWE Bottom Line. In October 2010, he became the new play-by-play commentator for WWE Superstars replacing Michael Cole. He called his first episode on the October 7 episode of Superstars with Jerry Lawler. This team was short-lived, however, as in mid-November injured wrestler CM Punk, who had started commentating on WWE Raw, replaced Lawler on Superstars. At the end of December, Punk left the commentary team after assaulting John Cena on Raw and SmackDown with a chair. Starting on the December 31 episode of Superstars, Josh Mathews joined Stanford as the color commentator. In addition to his commentary duties, he hosts the PPV Preshow every month, along with Tony Dawson. Stanford also made appearances in Zack Ryder's weekly Z! True Long Island Story YouTube series. On the show, Stanford revealed that he was the man who attacked, Chiappetta, Ryder's best friend, becoming a heel in the process. This was later proven false as it was Stanford's exact look-alike, Rot (wearing a "#Heel" Jacket), who performed the ambush.
Ad blocker interference detected!
Wikia is a free-to-use site that makes money from advertising. We have a modified experience for viewers using ad blockers

Wikia is not accessible if you've made further modifications. Remove the custom ad blocker rule(s) and the page will load as expected.