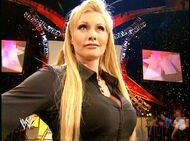 Rena Marlette Lesnar (born Rena Greek; born August 8, 1967), better known as
Sable
, is an American model, actress, and retired professional wrestler. She is primarily known for her time in
WWE
. Before gaining popularity in the world of professional wrestling, she began working for WWE in 1996. As Sable, she was one of the first
WWE Divas
, and gained considerable popularity. After feuding with
Luna Vachon
, and
Jacqueline
, Sable became the second WWF Women's Champion after the title was reinstated into the company. After becoming a heel and leaving the company, Greek (who by this time was Rena Mero by marriage) filed a $110 million lawsuit against the company, citing allegations of sexual harassment and unsafe working conditions.
In 2003, she returned to WWE and was put into a storyline feud with Torrie Wilson, and another storyline as Vince McMahon's mistress. In 2004, she left the company to spend more time with her family. Outside of wrestling, she has been featured on the cover of Playboy three times. The April 1999 issue of the magazine with her on the cover was one of the highest selling issues in Playboy history. She has guest starred on several television series, including Pacific Blue, and appeared in the film Corky Romano.
Ad blocker interference detected!
Wikia is a free-to-use site that makes money from advertising. We have a modified experience for viewers using ad blockers

Wikia is not accessible if you've made further modifications. Remove the custom ad blocker rule(s) and the page will load as expected.