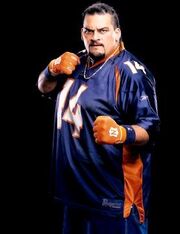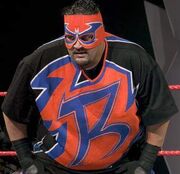 Matthew "Matt" Anoaʻi (born April 7, 1970) is a professional wrestler, best known for his time on the independent circuit under numerous ring names, and his time in
World Wrestling Entertainment
(WWE), where he competed as Rosey.
A member of the Anoaʻi family, a renowned Samoan wrestling family. Anoaʻi. Along with his late cousin Eddie Fatu, was trained at the Wild Samoan Training Facility headed by his uncle, Afa Anoaʻi. Following his training, he competed in Afa's World Xtreme Wrestling (WXW) promotion. He began competing in tag team competition with Samu as the Samoan Gangsta Party. The team had a brief stint in Extreme Championship Wrestling (ECW). Throughout the mid-1990s, Anoaʻi competed in various independent promotions, winning various tag team championships. In 2001, Anoaʻi signed with the WWE and was assigned to Heartland Wrestling Association (HWA) in Cincinnati, Ohio. While situated at HWA, he was placed in tag team competition, alongside Fatu, and the duo won the HWA Tag Team Championship.
After signing with WWE in 2002, Anoaʻi and Fatu were called up to the Raw roster. Known as the 3-Minute Warning, they were utilised as enforcers for then-General Manager Eric Bischoff. Following the release of Fatu in 2003, Anoaʻi was "discovered" by The Hurricane and from there on they competed together as a team, known as Rosey and The Hurricane. After two years of teaming, they won the World Tag Team Championship, but disbanded shortly after losing the championship. Anoaʻi was then released from his WWE contract in March 2006.
Following his stint with WWE, Anoaʻi continued his wrestling career, appearing at several independent promotions, including AJPW, Great Championship Wrestling, BAW Championship Wrestling, Appalachian Wrestling Federation, and Ohio Valley Wrestling. Aside from professional wrestling, Anoaʻi was a featured contestant on the reality television series Fat March and runs a restaurant.
Ad blocker interference detected!
Wikia is a free-to-use site that makes money from advertising. We have a modified experience for viewers using ad blockers

Wikia is not accessible if you've made further modifications. Remove the custom ad blocker rule(s) and the page will load as expected.