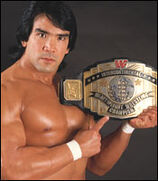 Richard Henry Blood Sr. (born February 28, 1953), better known by his ring name
Ricky "The Dragon" Steamboat
, is an American professional wrestler. He is best known for his work with the
American Wrestling Association
(AWA), the
National Wrestling Alliance
(NWA),
World Championship Wrestling
(WCW), and the
World Wrestling Federation
(WWF) and occasional appearances with
TNA
.
In the NWA and WCW, he was a one-time NWA World Heavyweight Champion, a four-time United States Heavyweight Champion, a four-time World Television Champion, a twelve-time World Tag Team Champion (eight-time under the WCW banner, one-time (though unofficial) under the NWA banner, and three-time under the Mid-Atlantic banner), and a two-time Mid-Atlantic Heavyweight Champion. In the WWF/E, Steamboat was a one-time Intercontinental Champion and was inducted into the WWE Hall of Fame in 2009.
Ad blocker interference detected!
Wikia is a free-to-use site that makes money from advertising. We have a modified experience for viewers using ad blockers

Wikia is not accessible if you've made further modifications. Remove the custom ad blocker rule(s) and the page will load as expected.