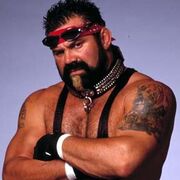 Robert "Rick" Rechsteiner[1] (born March 9, 1961) is an American semi-retired professional wrestler, better known under his ring name Rick Steiner, and nicknamed "The Dog-Faced Gremlin". He is the brother of
Scott Steiner
Steiner is best known for his tenure with World Championship Wrestling, where he was an eight time World Tag Team Champion (seven times with his brother Scott and once with Kenny Kaos). In addition to tag team success, he was also a one time United States Heavyweight Champion and a three time World Television Champion. In addition to WCW, Steiner also found success in the World Wrestling Federation, where he and Scott won the World Tag Team Championship twice.
Ad blocker interference detected!
Wikia is a free-to-use site that makes money from advertising. We have a modified experience for viewers using ad blockers

Wikia is not accessible if you've made further modifications. Remove the custom ad blocker rule(s) and the page will load as expected.