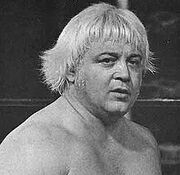 Carl Ray Stevens (September 5, 1935 – May 3, 1996), better known as Ray "The Crippler" Stevens or Ray "Blond Bomber" Stevens, was an American professional wrestler. Stevens was a wrestling superstar since the early years of the television era until he retired during the early 1990s. His performances and hard bumping style inspired generations of heel wrestlers who have attempted to emulate his ability to provide high quality and heat generating matches that continuously bring in huge crowds of fans. He was well known for using two different finishing moves in his many victories: the "Bombs Away" knee drop (a diving knee drop from the top rope to the throat) and the piledriver. Stevens wrestled as both a singles performer and in tag team matches with a variety of partners. In 2006, he was inducted into the Professional Wrestling Hall of Fame.
Ad blocker interference detected!
Wikia is a free-to-use site that makes money from advertising. We have a modified experience for viewers using ad blockers

Wikia is not accessible if you've made further modifications. Remove the custom ad blocker rule(s) and the page will load as expected.