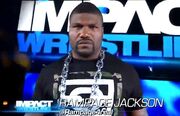 Quinton Ramone "Rampage" Jackson (born June 20, 1978) is an American mixed martial artist, former professional wrestler and actor. He is a former UFC Light Heavyweight Champion. As of December 2014, he is a part of the UFC.
Jackson made his TNA debut on the June 6, 2013 episode of Impact Wrestling, getting into a verbal confrontation with Kurt Angle. The following week, Jackson saved Angle from an attack from the villainous Aces & Eights stable. Jackson returned on the July 11 episode of Impact Wrestling, being revealed as the fifth member of New Main Event Mafia along with Angle, Magnus, Samoa Joe, and Sting. On the July 18, during the Destination X episode of Impact Wrestling, the Main Event Mafia achieved their goal of getting the TNA World Heavyweight Championship off of Bully Ray and out of Aces & Eights' hands after stopping them from interfering in Ray's match with Chris Sabin. After Angle took a leave of absence in August, Jackson attempted to recruit his Bellator 106 opponent Tito Ortiz to sub for him. Ortiz later attacked Jackson by hitting him in the head with a hammer, helped Bully Ray regain the World Heavyweight Championship, and joined Aces & Eights. Jackson made his in-ring debut in a five-on-five tag team match on the August 22 episode of Impact Wrestling; The Main Event Mafia (Jackson, Magnus, Joe, and Sting) and A.J. Styles defeated Aces & Eights after Styles pinned Devon for the win, forcing him out of TNA in the process. On September 12 at No Surrender, it was announced that Bellator MMA had pulled Jackson from TNA programming due to his upcoming PPV fight with Ortiz, thus removing him from the Main Event Mafia.
On July 31, 2014, in an interview with The Fight Nerd, Jackson stated that he was done with TNA after he saw their operations and how "they ran things," he had no plans to go back. TNA has since moved his profile to the alumni section, confirming his departure from the company.