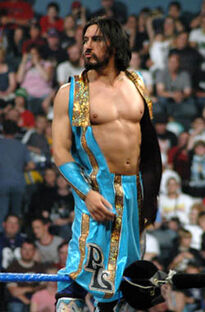 Paul Michael London[10] (born April 16, 1980) is an American professional wrestler. London is well known for his time with
World Wrestling Entertainment
(WWE).
After being trained at the Texas Wrestling Academy, London began competing for Ring of Honor where his high risk offensive moves made him a fan favorite. He later competed for Total Nonstop Action Wrestling, Pro Wrestling Zero-One, and various independent promotions, winning numerous championships and won the ECWA Super 8 Tournament in 2003.
London made his debut in WWE in late 2003 and immediately began teaming with fellow cruiserweight Billy Kidman. After Kidman retired from active competition, London formed a tag team with Brian Kendrick, with whom he won the WWE Tag Team Championship. After their split, London began competing in the cruiserweight division and won the WWE Cruiserweight Championship. In late 2006, Kendrick returned and the two reformed as a team. London and Kendrick were managed by Ashley Massaro. London and Kendrick won the WWE Tag Team Championship, becoming the longest reigning WWE Tag Team Champions since the title's creation and the World Tag Team Championship.[6] The team split when Kendrick was drafted to the SmackDown brand in June 2008 and London was released later that year. In 2009, he returned to the independent circuit, competing for Pro Wrestling Guerrilla, where he was one half of the former PWG World Tag Team Champions with partner El Generico under the team name ¡Peligro Abejas!.
Ad blocker interference detected!
Wikia is a free-to-use site that makes money from advertising. We have a modified experience for viewers using ad blockers

Wikia is not accessible if you've made further modifications. Remove the custom ad blocker rule(s) and the page will load as expected.