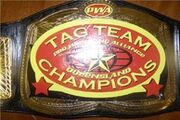 The PWA Queensland Tag Team Championship were the Queensland Tag Team Championships representing the Australian Pro Wrestling Alliance.
Championship Lineage
Edit
Seoul and Campaign Pyro - October 19 2008
Johnny Lukas and Johnny Gunn - March 2009?
Sean O'Shea & Mikey Broderick - September 2009
Joe Haze & Josh Haze - May 14 2010
Slade Mercer [Max Damage] & Jade Diamond - August 26 2011
Ben Farrar & Jon Farrar - November 12 2011
Mitch Cutting & David D'Angelos - May 12 2012
Return To
Edit
Ad blocker interference detected!
Wikia is a free-to-use site that makes money from advertising. We have a modified experience for viewers using ad blockers

Wikia is not accessible if you've made further modifications. Remove the custom ad blocker rule(s) and the page will load as expected.