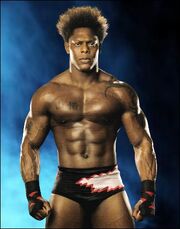 Orlando Mason Jordan (born April 21, 1974)[5] is an American retired professional wrestler. He is best known for his tenure in
WWE
, where he was a one-time United States Champion. He is also known for his stint with
Total Nonstop Action Wrestling
.
Jordan made his WWE television debut on the May 31, 2003 episode of WWE Velocity, where he defeated Jamie Noble. On June 26, 2003, Jordan made his first SmackDown! appearance as a face at Madison Square Garden, where he lost to John Cena. His most memorable part of his WWE tenure was as apart of JBL's Cabinate as the Chief of Staff. Jordan made his final SmackDown! appearance on the May 12 episode of SmackDown! in a backstage segment, telling Nunzio that he had seen someone who looked like his partner Vito dressed in drag at a night club during the recent UK tour. His final WWE appearance was a loss to Gunner Scott on the May 13 episode of WWE Velocity.
On the January 4, 2010, live, three-hour, Monday night edition of TNA Impact! television show Jordan made his debut for the company in a backstage segment with D'Angelo Dinero. He then as a heel, defeated Dinero in a singles match on the January 21 episode of Impact!. On July 11, 2011, it was reported that Jordan had been released from TNA.
Ad blocker interference detected!
Wikia is a free-to-use site that makes money from advertising. We have a modified experience for viewers using ad blockers

Wikia is not accessible if you've made further modifications. Remove the custom ad blocker rule(s) and the page will load as expected.