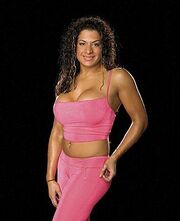 Nidia Guenard (born March 12, 1979) is a retired professional wrestler who performed for
World Wrestling Entertainment
(WWE) under the ring name Nidia. She (along with men's division winner
Maven
Huffman) won the first season of
WWE Tough Enough
receiving a one year contract with the company. She spent most of her time as the on screen girlfriend of
Jamie Nobleon
SmackDown
. Nidia was released from her WWE contract on November 3, 2004 along with several other performers, in a routine purge of talent.
Ad blocker interference detected!
Wikia is a free-to-use site that makes money from advertising. We have a modified experience for viewers using ad blockers

Wikia is not accessible if you've made further modifications. Remove the custom ad blocker rule(s) and the page will load as expected.