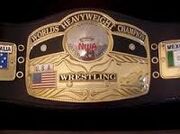 T
he National Wrestling Alliance (NWA) World Heavyweight Championship
is a professional wrestling world heavyweight championship in the
National Wrestling Alliance
. Its lineage has been traced from the first World Heavyweight Championship (Catch as Catch Can version; 1905-1957), which traces its lineage to
George Hackenschmidt
's 1905 title and
Frank Gotch
's 1908 version. This effectively makes it the oldest surviving wrestling championship in the world. The title has been competed for in such well-known promotions as the
World Wide Wrestling Federation (WWWF, now WWE)
,
New Japan Pro Wrestling
(NJPW),
World Championship Wrestling
(WCW),
Extreme Championship Wrestling
(ECW) and
Total Nonstop Action Wrestling
(TNA).
With many territorial promotions appearing across the United States, the NWA was formed in 1948 as an overall governing wrestling body. Like franchises, these territories had the option of NWA membership. The promotion owners had to recognize the NWA heavyweight, junior heavyweight, and light heavyweight champions as world champions while retaining their own ownership and top champion. Ric Flair holds the record for the most reigns with ten.
Ad blocker interference detected!
Wikia is a free-to-use site that makes money from advertising. We have a modified experience for viewers using ad blockers

Wikia is not accessible if you've made further modifications. Remove the custom ad blocker rule(s) and the page will load as expected.