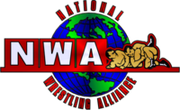 The National Wrestling Alliance (NWA) is an American professional wrestling organization. Formed in 1948, it was for a time the most recognized brand and largest governing body in professional wrestling. Under the control of the NWA Board of Directors (consisting of various prominent, regional promoters) the organization acted as a governing body for the Alliance's national territory system which recognized one world champion, participated in talent exchanges, and collectively protected the territorial integrity of member promotions.
The NWA thrived in America until the late 1980s, by which time most original members had gone out of business as a result of the World Wrestling Federation's national expansion; it was also in the late 1980s, specifically in 1989, when Robert Trobich's Pro Wrestling Organization took over ownership of the NWA branding & all NWA-related properties. The largest remaining NWA member, World Championship Wrestling (WCW) – which had been formed from the assets of Jim Crockett Promotions (which in turn had itself acquired other former NWA members) – would leave the NWA for good in 1993.
The NWA continued on as a governing body until 2012, when it was transferred to R. Bruce Tharpe's International Wrestling Corp as a result of a lawsuit filed against Trobich & his company. Under Tharpe, the NWA changed from a membership-based governing body to a private organization which licensed the NWA name to promotions. In May 2017, it was announced that musician Billy Corgan, through his production company, Lightning One, Inc., had agreed to purchase the NWA as part of a deal that was finalized on October 1 whilst eliminating the NWA Territory/Affiliate System.
Owner(s)
Robert Trobich - Pro Wrestling Organization LLC (1989–2012)
R. Bruce Tharpe - International Wrestling Corp, LLC (2012–2017)
Billy Corgan - Lightning One, Inc. (2017–present)
Return To
Edit