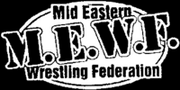 The Mid-Eastern Wrestling Federation was a Mid-Atlantic independent professional wrestling promotion based in Essex, Maryland. Founded by promoter Dennis Wippercht and wrestler Tim "Lucifer" Burke in 1991, the MEWF was one of the leading independent promotions on the East Coast during the 1990s rivaling promotions such as
East Coast Wrestling Association
,
Jersey All Pro Wrestling
and
Maryland Championship Wrestling
.
Among its roster included Extreme Championship Wrestling regulars such as Raven, Stevie Richards, The Blue Meanie, Damien Kane, Pit Bull #2, referee "Judge" Jeff Jones, and The Bad Breed (Ian Rotten and Axl Rotten) as well as some of the leading independent wrestlers such as Cueball Carmichael, Johnny Gunn, Max Thrasher, Devon Storm, Morgus the Maniac, Boo Bradley, Jimmy Cicero, Hollywood Bob Starr, Ruckus, Dino Casanova, Corporal Punishment, The Bad Crew and Darkside (Glen Osborne and Rockin' Rebel).
Former World Wrestling Federation wrestlers such as Barry Horowitz, Road Warrior Hawk, Jim Neidhart, The Honky Tonk Man and The Headbangers as well as World Championship Wrestling veterans "Jumping" Joey Maggs and Disco Inferno also had short stints in the promotion.

Championships
MEWF Heavyweight Championship
MEWF Mid-Atlantic Heavyweight Championship
MEWF Cruiserweight Championship
MEWF Light Heavyweight Championship
MEWF Tag Team Championship