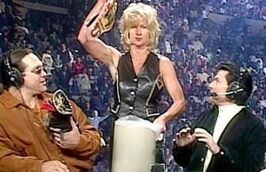 Debrah Anne Miceli (born Debra Lewandowski; February 9, 1964) is an American monster truck driver and former professional wrestler. She is best known under her ring names Madusa (shortened from Made in the USA) and Alundra Blayze. Her early career was spent in the
American Wrestling Association
, where she once held the AWA World Women's Championship. In 1988, she was the first woman to be awarded
Pro Wrestling Illustrated
's Rookie of the Year. The following year, she signed a contract with All Japan Women's Pro-Wrestling, making her the first foreign wrestler to do so.
She later joined World Championship Wrestling (WCW), where she was a member of the Dangerous Alliance, a group of wrestlers managed by Paul E. Dangerously. In 1993, she joined the rival World Wrestling Federation (WWF) under the name Alundra Blayze. In the WWF, she feuded with Bull Nakano and Bertha Faye, while holding the WWF Women's Championship three times. Two years after joining the WWF, Miceli returned to WCW, showing up on an episode of Monday Nitro to throw the WWF Women's Championship belt into a trash can; she was blacklisted by the WWF (later WWE) for the next 20 years as a result. In her second WCW run, Miceli feuded with Bull Nakano and Oklahoma, and became the first woman to hold the WCW World Cruiserweight Championship. After training wrestlers such as Torrie Wilson, Stacy Kiebler and Nora "Molly Holly" Greenwald at the WCW Power Plant, she left the company in 2001. On March 28, 2015, she was inducted into the WWE Hall of Fame, under the Alundra Blayze moniker.
Miceli competes in the world of monster trucks. She drives a truck named Madusa, and won the 2004 co-championship at the Monster Jam World Finals for freestyle in the first-ever three-way tie. The following year, she was the only female competitor in the Super Bowl of Motorsports, and she won the Racing Championship in the Monster Jam World Finals.
Ad blocker interference detected!
Wikia is a free-to-use site that makes money from advertising. We have a modified experience for viewers using ad blockers

Wikia is not accessible if you've made further modifications. Remove the custom ad blocker rule(s) and the page will load as expected.