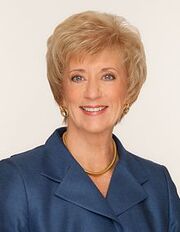 Linda Marie McMahon (née Edwards; born October 4, 1948) is an American professional wrestling magnate and a former Republican Party candidate. She is notable for her career developing
WWE
with her husband
Vince McMahon
. McMahon was active with WWE, renamed from the original WWF in 2002, from 1980 to 2009. During this time, the company grew from a small regional business in New York to a large multinational. McMahon and her husband became wealthy through the WWE's success, and the McMahon family name is now synonymous with the wrestling industry. As President and later CEO of the company, she negotiated business deals, launched wrestling merchandise, signed wrestler contracts, and managed and wrote for WWE publications. She also started the company's civic programs, Get REAL and Smackdown Your Vote. McMahon occasionally made on-screen appearances, most notably in a wrestling feud with her husband which climaxed at
WWE WrestleMania 17
.
She left WWE in 2009 to run unsuccessfully for a seat in the United States Senate from Connecticut, losing to Democratic Party nominee Richard Blumenthal in the general election of 2010. McMahon was the 2012 Republican nominee for Connecticut's other Senate seat to replace retiring Senator Joe Lieberman in the general election in November 2012, but lost again, this time to Democratic Representative Chris Murphy.
Ad blocker interference detected!
Wikia is a free-to-use site that makes money from advertising. We have a modified experience for viewers using ad blockers

Wikia is not accessible if you've made further modifications. Remove the custom ad blocker rule(s) and the page will load as expected.