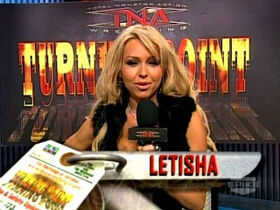 Leticia Ann Cline (Passmore) (born October 1, 1978) is an American model. She is best known as a former interviewer for
TNA
Wrestling, Maxim Magazine, the reality show Beauty and the Geek and her Playboy magazine appearance in July 2008.
On October 23, 2006, Total Nonstop Action Wrestling producer Jessie Ward recruited Cline to TNA as an interviewer, complementing Jeremy Borash. Cline made her television debut on the November 30, 2006 episode of TNA Impact!. She took a break from TNA in the beginning of fall 2007 to concentrate on other projects. Her final appearance with TNA was on their first ever two hour show. Cline was officially granted her release from TNA on November 25, 2007.
Ad blocker interference detected!
Wikia is a free-to-use site that makes money from advertising. We have a modified experience for viewers using ad blockers

Wikia is not accessible if you've made further modifications. Remove the custom ad blocker rule(s) and the page will load as expected.