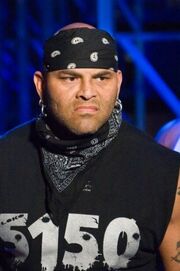 Charles Ashenoff (born January 6, 1964) also known as Carlos Santiago Espada Moises and better known by his ring name, Konnan, is a Cuban professional wrestler and rapper. Konnan is well known in Mexico due to his appearances on Mexican television, particularly with the
Asistencia Asesoría y Administración
, and has in the past been described as "the Mexican Hulk Hogan", reflecting his mainstream popularity.
After serving in the United States Navy, Ashenoff began his professional wrestling career in Mexico, wrestling in both Empresa Mexicana de la Lucha Libre and Asistencia Asesoría y Administración. In the latter, he also acted as a booker and the first AAA Americas Heavyweight Champion. From 1992 to 1993, he worked in the World Wrestling Federation as Max Moon, and in 1996, he began working full-time for World Championship Wrestling (WCW), where he became a member of the influential New World Order stable. While in WCW, he also helped bring in other Mexican wrestlers to the promotion, as well as being a member of The Filthy Animals alliance. In 2002, he joined Total Nonstop Action Wrestling where he was a part of two major alliances: 3Live Kru and The Latin American Xchange. He left the company in 2007 after filing a lawsuit against it, which was eventually resolved.
Ad blocker interference detected!
Wikia is a free-to-use site that makes money from advertising. We have a modified experience for viewers using ad blockers

Wikia is not accessible if you've made further modifications. Remove the custom ad blocker rule(s) and the page will load as expected.