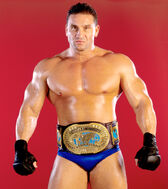 Kenneth Wayne Shamrock (born Kenneth Wayne Kilpatrick; February 11, 1964) is an American mixed martial artist, Ultimate Fighting Championship (UFC) Hall of Famer, and professional wrestler. Shamrock emerged as one of the biggest stars in the history of mixed martial arts, headlining over 15 main events and co-main events in the UFC and Pride Fighting Championships during the course of his career and set numerous pay-per-view records with his drawing power. Shamrock is widely considered to be a legendary figure and icon in the sport of mixed martial arts. Shamrock was named The World's Most Dangerous Man by ABC News in a special entitled "The World's Most Dangerous Things" in the early part of his UFC career, a moniker which has become synonymous as his nickname.
Along with his mixed martial arts career, Shamrock enjoyed considerable success in professional wrestling, achieving championship success during his tenures with the World Wrestling Federation (WWF) and Total Nonstop Action Wrestling (TNA). Among other accolades, he is a one-time NWA World Heavyweight Champion, one-time WWF Intercontinental Champion, one-time WWF Tag Team Champion, and the 1998 King of the Ring Tournament.
Ad blocker interference detected!
Wikia is a free-to-use site that makes money from advertising. We have a modified experience for viewers using ad blockers

Wikia is not accessible if you've made further modifications. Remove the custom ad blocker rule(s) and the page will load as expected.