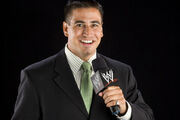 Justin Jason Roberts (born December 29, 1979) is an American former ring announcer, best known for his time in
WWE
. While in WWE, Roberts regularly announced for its pay-per-views and television shows like
WWE Raw
,
WWE SmackDown
,
WWE ECW
and
WWE Superstars
.
In 2002, he got a job on SmackDown, followed later by a move to the Raw brand. He also worked on WWE Velocity and WWE Heat shows while touring as the full-time Raw live event announcer. Most notably, Roberts announced the WWE ECW show each week on the Sci Fi Network until September 2007, before swapping with SmackDown's Tony Chimel. Roberts reached the peak of his profession when he announced the main event of WWE WrestleMania 24 between Edge and The Undertaker on March 30, 2008.
In addition to announcing SmackDown and pay-per-view matches, Roberts would also announce on WWE Superstars, including its inaugural episode on April 16, 2009. Beginning on September 28, 2009, Roberts took over the Raw announcing duties from the departing Lilian Garcia. On the June 7, 2010 episode of Raw, Roberts was attacked by the rookie wrestlers who had competed in the first season of WWE NXT. During the segment, Roberts was strangled with his own tie by Daniel Bryan, which led to Bryan's release, as WWE felt the incident was too violent for their TV-PG programming. At WWE SummerSlam 2010 two months later however, Bryan returned to WWE.
At WWE Wrestlemania 27, Roberts worked as the sole announcer for the whole show, with the exception of the announcement of the WWE Hall of Fame class of 2011, which was announced as usual by Howard Finkel.
On October 13, 2014 immediately after Raw, WWE released Roberts after opting not to renew his contract. Following this, it was reported that Roberts would be working on an autobiography.
Ad blocker interference detected!
Wikia is a free-to-use site that makes money from advertising. We have a modified experience for viewers using ad blockers

Wikia is not accessible if you've made further modifications. Remove the custom ad blocker rule(s) and the page will load as expected.