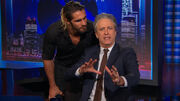 Jon Stewart (born Jonathan Stuart Leibowitz; November 28, 1962) is an American comedian, writer, producer, director, actor, media critic, and television host. From 1999 to 2015, he was the host of The Daily Show, a satirical news program that aired on Comedy Central.
Stewart began a comedic feud with WWE wrestler Seth Rollins in March 2015, and appeared on WWE Raw during a Daily Show-styled segment hosted by Rollins. On August 23, 2015, Stewart returned to host the WWE SummerSlam 2015 at the Barclays Center in Brooklyn, New York. He would later get involved in the main event between Rollins and John Cena, helping Rollins retain his WWE Championship, as well as winning Cena's WWE United States Championship. The next night on Raw, he explained his actions, saying he did it for Ric Flair (who was also present), which was to retain his world championship record. Cena then gave Stewart his finishing move, the Attitude Adjustment, to end the segment.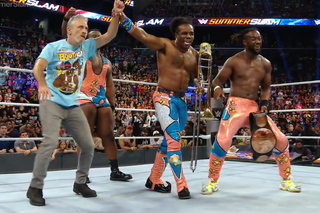 Stewart returned at
WWE SummerSlam 2016
on August 21, 2016 as a special guest. He also teamed with
The New Day
against
The Club
and helped them retain the
WWE Tag Team Championship
.
Ad blocker interference detected!
Wikia is a free-to-use site that makes money from advertising. We have a modified experience for viewers using ad blockers

Wikia is not accessible if you've made further modifications. Remove the custom ad blocker rule(s) and the page will load as expected.