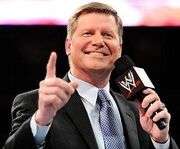 John Hodger Laurinaitis (born July 31, 1962), also known as Johnny Ace, is an American semi-retired professional wrestler and senior producer, currently employed by
WWE
.
He has wrestled for such promotions as World Championship Wrestling (WCW), All Japan Pro Wrestling (AJPW) and WWE. In WWE, Laurinaitis worked in the talent relations office for eight years, and as occasional wrestler from 2011 until 2012. After his on screen firing, he stepped down from his corporate backstage role to being a producer. Prior to joining WWE, Laurinaitis worked as an executive for WCW.
Laurinaitis' brother Joe Laurinaitis, is Animal of The Road Warriors and Legion of Doom. He is also the uncle of James Laurinaitis, linebacker for the St. Louis Rams.
As of September 3, 2015, Laurinaitis became engaged to Kathy Colace, who is the mother of The Bella Twins and the mother-in-law of Daniel Bryan.
He is noted for his distinctively raspy voice. As a friendly joke among fellow wrestlers, he is sometimes referred to as "John Laryngitis", both a play on his last name and a joke that he sounds as though he has a permanent case of the disease.
Ad blocker interference detected!
Wikia is a free-to-use site that makes money from advertising. We have a modified experience for viewers using ad blockers

Wikia is not accessible if you've made further modifications. Remove the custom ad blocker rule(s) and the page will load as expected.