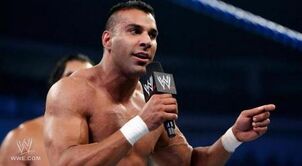 Yuvraj "Raj" Singh Dhesi (born July 19, 1986) is an Indian-Canadian professional wrestler, better known by his ring names Tiger Raj Singh and Jinder Mahal. He worked for the American professional wrestling promotion
WWE
, where he was a member of the 3MB stable and manager of
The Great Khali
. Jinder Mahal made his televised
WWE
debut on the April 29, 2011 episode of
SmackDown
, greeting fellow Indian superstar
The Great Khali
and his brother,
Ranjin Singh
backstage. Mahal made his final appearance on the June 13 2014 edition of
SmackDown
where 3MB attacked
Roman Reigns
but got beaten down. He was released from his contract on June 12 2014 along with
Drew McIntyre
and several other talents.
After two years wrestling in places like Reality of Wrestling, the World Wrestling Council and Continental Wrestling Entertainment, Mahal and former partner Heath Slater "invaded" the Aaugust 1 2016 episode of Raw, and demanded to be signed, but Raw General Manager Mick Foley stated that only one of them would be signed and they had to face each other in a match. While Slater kept arguing with Foley, Mahal ordered the referee to ring the bell, and quickly defeated Slater, getting signed back to WWE as part of the Raw brand.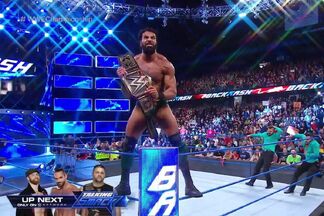 See Also