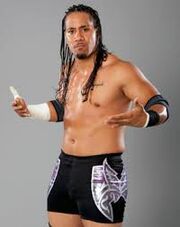 Jonathan Solofa Fatu (born August 22, 1985) is a Samoan American professional wrestler who appears in WWE as
Jimmy Uso
. Since joining the main WWE roster in 2010, he is a two-time WWE Tag Team Champions and 2014 Tag Team of the Year Slammy Award winner with his twin brother
Jey Uso
. While in WWE's developmental system, they were one-time FCW Florida Tag Team Champions.
He is the sons of WWE Hall of Famer Solofa Fatu, better known as Rikishi, nephew of The Tonga Kid and the late Umaga, and are part of the Anoaʻi family. As part of the family they are also the first cousins once-removed to fellow WWE wrestlers Roman Reigns, Rosey and The Rock, as well as the late WWE Hall of Famer Yokozuna and Husband of Naomi.
Ad blocker interference detected!
Wikia is a free-to-use site that makes money from advertising. We have a modified experience for viewers using ad blockers

Wikia is not accessible if you've made further modifications. Remove the custom ad blocker rule(s) and the page will load as expected.