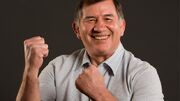 Floyd Gerald "Jerry" Brisco (born September 19, 1946) is an American former professional wrestler, and prior to June 2009, worked as a road agent for
WWE
on
Raw
.
In the course of his career, Brisco wrestled for several National Wrestling Alliance (NWA) member promotions and won dozens of championships. However, Brisco, along with his partner Pat Patterson, achieved more fame in the late 1990s and early 2000s as the onscreen "stooge" of WWE Chairman Vince McMahon. He is the younger brother of former professional wrestler Jack Brisco who died in early 2010. In March 2010, Brisco returned to the WWE as a talent scout. In 2008, he was inducted into the WWE Hall of Fame.
Ad blocker interference detected!
Wikia is a free-to-use site that makes money from advertising. We have a modified experience for viewers using ad blockers

Wikia is not accessible if you've made further modifications. Remove the custom ad blocker rule(s) and the page will load as expected.