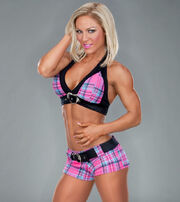 Brittany Beede (December 31, 1984) is an American model and professional wrestler who was best known for being signed to
World Wrestling Entertainment
(WWE), training in its developmental facility
Florida Championship Wrestling
(FCW) under the name Jamie Keyes. She also was a contestant on
WWE NXT
Season 3.
Brittany made her professional wrestling debut in TNA at TNA Final Resolution 2009 under the ring name Brittany, managing Kevin Nash. This was Beede's first and only appearance with TNA. In 2009, Wrestlicious added pictures of Beede to their official Facebook page announcing that Brittany was going to be a part of the show and had taken pictures with the company and had a verbal agreement with the company about filming some footage for the show. However, she had to back out of the deal a week before filming, due to signing with World Wrestling Entertainment.
After WWE saw Beede's Wrestlicous pictures, they signed Brittany to a development contract. Brittany made her debut in WWE development territory Florida Championship Wrestling at the March 19, 2010 tapings, as the ring announcer under the name Jamie Keyes. However, she would not make her wrestling debut until the May 23 episode of FCW when she lost to Savannah in the first round of the FCW Divas Championship tournament.
Brittany, under her FCW ring name Jamie Keyes, debuted as NXT's ring announcer on the first episode of season 2, which aired on June 8, 2010. She was a contestant on the all female Season 3 of NXT, but was the first eliminated and was released from her contract the following week.
Ad blocker interference detected!
Wikia is a free-to-use site that makes money from advertising. We have a modified experience for viewers using ad blockers

Wikia is not accessible if you've made further modifications. Remove the custom ad blocker rule(s) and the page will load as expected.