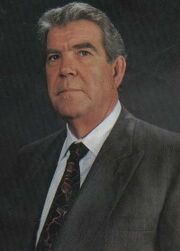 John "Jack" Tunney Jr. (1935 – January 24, 2004) was a Canadian wrestling promoter. Tunney was known worldwide for his appearances on
World Wrestling Federation
television as the promotion's figurehead president, suspending wrestlers, stripping them of titles, and ordering matches. Tunney's tenure was during the company's initial worldwide popularity boom in the 1980s, the peaking days of "Hulkamania". On January 24, 2004, at the age of 68, Jack died of a heart attack in his sleep, at a home in Waterdown, Ontario, after a sudden illness.
Ad blocker interference detected!
Wikia is a free-to-use site that makes money from advertising. We have a modified experience for viewers using ad blockers

Wikia is not accessible if you've made further modifications. Remove the custom ad blocker rule(s) and the page will load as expected.