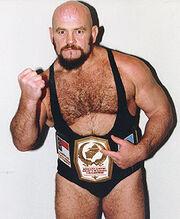 "The Russian Bear" Ivan Koloff (born Oreal Perras on August 25, 1942, Montreal, Quebec, Canada) is a Canadian former professional wrestler who once held the WWWF World Heavyweight Championship. Ivan Koloff debuted in the
World Wide Wrestling Federation
in 1970, managed by Capt.
Lou Albano
. He soon started a feud with then-WWWF World Heavyweight Champion
Bruno Sammartino
. On January 18, 1971, "The Russian Bear" Ivan Koloff defeated Sammartino in
Madison Square Garden
for the WWWF World Heavyweight Championship by pinfall after a kneedrop from the top rope, ending Sammartino's seven and two-third years reign on top. Koloff lost the title only 21 days later to Pedro Morales, essentially being used as a "transitional" champion (as he was used to move the title from Sammartino to Morales without having the two faces work against each other), much like
Stan Stasiak
and
The Iron Sheik
would be in later years. After the loss, Koloff remained a contender for the title, but never reclaimed it, and left the WWWF in 1972.
During his time in the WWWF, Ivan Koloff wrestled WWWF title matches against Bruno Sammartino, Pedro Morales, Superstar Billy Graham and Bob Backlund, holding the distinction, with fellow villain Stan Stasiak, as one of only two men to challenge all four of these popular champions. Koloff would also be the first opponent to ever challenge for the WWWF title in a cage match in a rematch loss against Bruno Sammartino.
Ad blocker interference detected!
Wikia is a free-to-use site that makes money from advertising. We have a modified experience for viewers using ad blockers

Wikia is not accessible if you've made further modifications. Remove the custom ad blocker rule(s) and the page will load as expected.