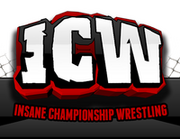 Insane Championship Wrestling (ICW) is a British wrestling promotion based in Glasgow, Scotland, founded by Mark Dallas in 2006. The company began by organising small shows at Maryhill community centre in Glasgow. From there the company expanded to Glasgow city centre and beyond. After promoting shows in Edinburgh the company recently expanded UK wide, running shows in London and Newcastle with shows announced in Liverpool, Leeds and Birmingham. The promotion has gained an enhanced reputation after being featured in a Vice Magazine documentary in 2012 and the subject of a BBC documentary in 2014. ICW records and releases the majority of their shows on limited edition DVD as well as producing series of their own YouTube show, ICW Worldwide. ICW formerly aired on cable television station MyChannel which aired across Europe. This deal was cut short when a scheduling error led to ICW programming being shown at an improper time, leading to the show being banned after an Ofcom investigation.[6] The promotion mixes elements of traditional Sports Entertainment with Hardcore wrestling, thus attendances at events are restricted to those aged 18+. Some performers incorporate zany gimmicks and play up Scottish stereotypes such as references to Irn-Bru. The promotion was named UK Promotion of the Year by Fighting Spirit Magazine in 2012, 2013 and 2014. In 2015 ICW launched their On Demand service (ICW On Demand), which is available worldwide for $5.99, and has become the companies primary source of distribution of content, with both new shows and a vault of classics being available for streaming, similar to the
WWE Network
. The service launched with the release of Fear & Loathing VIII, at the time the most attended show in the company's history.
Championships
ICW World Heavyweight Championship
ICW Zero-G Championship
ICW Tag Team Championship
ICW Women's Championship
Ad blocker interference detected!
Wikia is a free-to-use site that makes money from advertising. We have a modified experience for viewers using ad blockers

Wikia is not accessible if you've made further modifications. Remove the custom ad blocker rule(s) and the page will load as expected.