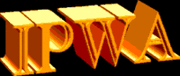 The Independent Professional Wrestling Alliance (IPWA, sometimes shortened to the Independent Pro Wrestling Alliance) was an American independent professional wrestling promotion that held events in the Mid-Atlantic and Southeastern United States, especially in the Carolinas and Virginia, from October 1995 to February 2001, when it was run by Cueball Carmichael and Kevin Carson. The promotion was based in Chincoteague Island, Virginia, with offices in Alexandria and Fairfax, Virginia.
It was the first successful independent promotion in the region, along with W.D. Woody's Ultimate Championship Wrestling, rivaling long-running territory-era promoters Mike and Denny Million (All-American Wrestling), Bob Ross (American Championship Wrestling), and James Wells (North American Wrestling Alliance) during the mid-to late 1990s.
The promotion featured a number of independent stars during its six years in operation including Johnny Gunn, Jimmy Cicero, Lance Diamond, Corporal Punishment, Julio Sanchez, Steve Corino, Adam Flash, and Death & Destruction (Frank Parker & Roger Anderson). One-time NWA regional star Buddy Landel and The Headbangers (Headbanger Mosh & Headbanger Thrasher) from the World Wrestling Federation were also regulars during the IPWA's early years. In addition, its wrestling school, run by Carmichael and Jimmy Cicero, was responsible for training Jacey North, Otto Schwanz, and The Bad Street Boys (Joey Matthews and Christian York).

Championships
IPWA Heavyweight Championship
IPWA Tag Team Championship
IPWA Light Heavyweight Championship
IPWA Ladies Championship
Return To
Edit
Ad blocker interference detected!
Wikia is a free-to-use site that makes money from advertising. We have a modified experience for viewers using ad blockers

Wikia is not accessible if you've made further modifications. Remove the custom ad blocker rule(s) and the page will load as expected.