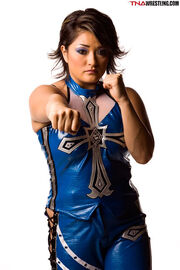 Ayako Valentina Hamada Villarreal (浜田 文子 Hamada Ayako?) (born February 14, 1981) is a Japanese-Mexican female professional wrestler, who is currently wrestling for
Pro Wrestling Wave
in Japan and
Shimmer Women Athletes
in the United States.
She is best known for winning several notable titles in Japanese women's pro wrestling, including both the WWWA World Championship and AAAW Single Championship in the early 2000s, while also working from 2009 to 2010 for the American promotion Total Nonstop Action Wrestling, where she was a two–time TNA Knockouts Tag Team Champion. She is a second generation wrestler, as her father is Gran Hamada. Her older sister Xóchitl Hamada is also a professional wrestler.
Ad blocker interference detected!
Wikia is a free-to-use site that makes money from advertising. We have a modified experience for viewers using ad blockers

Wikia is not accessible if you've made further modifications. Remove the custom ad blocker rule(s) and the page will load as expected.