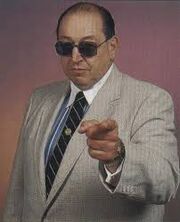 Robert James "Bob"/"Gino" Marella (June 4, 1937 – October 6, 1999), better known by his ring name of Gorilla Monsoon, was an American professional wrestler, play-by-play commentator, and booker. He is famous for his run as a super-heavyweight main eventer, and later as the voice of the
World Wrestling Federation
, as commentator and backstage manager during the 1980s and 1990s. He was the voice of the WWF during the 80s and early 90s and also called the first 8
WWE WrestleManias
and was the host of
WWE WrestleMania 9
. He became on-screen WWF President in the latter decade.
In professional wrestling, the staging area just behind the entrance curtain at an event, a position which Marella established and where he could often be found during WWF shows late in his career, is named the Gorilla Position in his honor. Although remembered fondly by many viewers, Monsoon was disliked by "smart" fans; he was voted "Worst Television Announcer" a record six times by readers of the Wrestling Observer Newsletter.
He was inducted into the WWE Hall of Fame in 1994.
Ad blocker interference detected!
Wikia is a free-to-use site that makes money from advertising. We have a modified experience for viewers using ad blockers

Wikia is not accessible if you've made further modifications. Remove the custom ad blocker rule(s) and the page will load as expected.