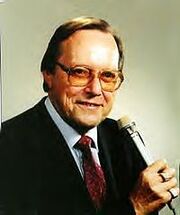 Gordon T. Solie (born Francis Jonard Labiak, later Jonard Pierre Sjoblom, January 26, 1929 – July 27, 2000), was a Florida-based professional wrestling play-by-play announcer working for
World Championship Wrestling
. Solie was also the regular announcer for
Georgia Championship Wrestling
,
Championship Wrestling from Florida
and
Continental Championship Wrestling
, among others. Solie's last announcing job was to be the Heroes of Wrestling pay-per-view in 1999, but he could not attend due to failing health. He died of an aneurysm on July 27, 2000. On March 29, 2008,
Jim Ross
posthumously inducted Solie into the
WWE Hall of Fame
in the Class of 2008.
Ad blocker interference detected!
Wikia is a free-to-use site that makes money from advertising. We have a modified experience for viewers using ad blockers

Wikia is not accessible if you've made further modifications. Remove the custom ad blocker rule(s) and the page will load as expected.