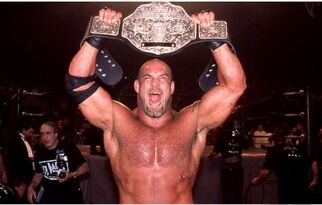 William Scott "Bill" Goldberg (born December 27, 1966) is an American actor, former professional football player, and former professional wrestler. He is best known for his appearances with
World Championship Wrestling
(WCW) between 1997 and 2001, and in
World Wrestling Entertainment
(WWE) between 2003 and 2004. He is notable for his lengthy undefeated streak in singles competition: the official count is listed as 173–0, though doubts have been cast about the legitimacy of this figure.
Goldberg is a two-time world champion: a one-time WCW World Heavyweight Champion and a one-time World Heavyweight Champion in WWE. He is also a two-time WCW United States Heavyweight Champion and one-time WCW World Tag Team Champion (with Bret Hart). Goldberg headlined many pay-per-views for WCW and WWE, including closing WCW's premier annual event, Starrcade, on two occasions. WWE Hall of Famer and industry veteran Arn Anderson linked Goldberg's popularity at his peak to that of Hulk Hogan, The Rock and Steve Austin, saying that he "was as hot as anybody has ever been in the history of this business".
Before he was a professional wrestler, Goldberg was a professional football player. After retiring from wrestling, he began working as a commentator for the mixed martial arts promotion EliteXC until its closure. As of 2010, he has been the host of Garage Mahal on the DIY Network.
Ad blocker interference detected!
Wikia is a free-to-use site that makes money from advertising. We have a modified experience for viewers using ad blockers

Wikia is not accessible if you've made further modifications. Remove the custom ad blocker rule(s) and the page will load as expected.