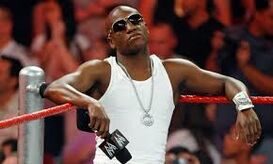 Floyd Joy Mayweather, Jr. (born Floyd Joy Sinclair; February 24, 1977) is a retired American professional boxer, widely recognized as the best boxer of his generation and amongst the greatest fighters of all time. He is undefeated as a professional and is a five-division world champion, having won twelve world titles and the lineal championship in four different weight classes. Mayweather is a two-time Ring magazine Fighter of the Year (winning the award in 1998 and 2007); he also won the Boxing Writers Association of America (BWAA) Fighter of the Year award in 2007, 2013 and the Best Fighter ESPY Award in 2007, 2008, 2010, 2012, 2013, and 2014. Mayweather was honored with "The Best Ever Award" by Spike TV in 2015. Boxrec currently rates Mayweather as the 7th greatest pound for pound fighter of all time, and the greatest pound for pound welterweight of all time.
Mayweather appeared at WWE No Way Out 2008 in Las Vegas, Nevada. He was involved in a storyline altercation with Big Show when Mayweather jumped a security barricade and attacked Big Show to help Rey Mysterio (whom Show had threatened to chokeslam). Mayweather originally assumed a babyface role in the story lines, which met with some resistance from fans. The attack resulted in Big Show receiving a broken nose. The following night on Raw, Big Show challenged Mayweather to a one-on-one No Disqualification match at WWE WrestleMania 24, which Mayweather accepted. At WrestleMania, Mayweather defeated Big Show in a knockout with brass knuckles, to maintain his unbeaten record. Mayweather was reportedly paid $20 million for the fight. 1,058,000 PPV buys were reported for WrestleMania 24, grossing $23.8 million in revenue.
Mayweather was guest host for WWE Raw in Las Vegas on August 24, 2009. He interfered with a tag-team match, which resulted in a loss for the Big Show (again a heel) and his partner Chris Jericho as Mayweather gave Montel Vontavious Porter brass knuckles to knock Jericho out, giving Porter and his new tag-team partner Mark Henry the win and a shot at the Unified WWE Tag Team Titles at WWE Breaking Point 2009 against Jeri-Show. He then celebrated with Henry and Porter, turning face. Later that night, he was involved in a backstage segment with Vince McMahon, D-Generation X and Carlito helping McMahon prepare for his six-man tag-team match against Legacy and DX. During the segment, McMahon knocked out Carlito.
Ad blocker interference detected!
Wikia is a free-to-use site that makes money from advertising. We have a modified experience for viewers using ad blockers

Wikia is not accessible if you've made further modifications. Remove the custom ad blocker rule(s) and the page will load as expected.