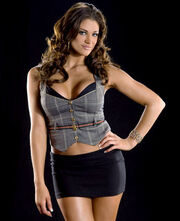 Eve Torres Gracie (born Eve Marie Torres; August 21, 1984) is an American dancer, model, actress, and former professional wrestler. She is best known for her work with
WWE
as Eve Torres or simply Eve.
Torres began her career as a model and dancer. She danced for The Southern California Summer Pro League and went on to become a member of the National Basketball Association's Los Angeles Clippers Spirit Dance Team for the 2006–2007 season. She has also appeared on several television shows, including Show Me The Money, Sunset Tan, and Deal or No Deal.
In 2007, she entered the 2007 Diva Search and won, earning a contract with WWE. Torres first appeared on WWE programming as a backstage interviewer in 2008, and also appeared in non-wrestling contests such as bikini contests and dance competitions. She later became a full-time wrestler in 2009, and was involved in feuds with Michelle McCool, Layla and Natalya. She also managed the tag team of Cryme Tyme. After being traded to the Raw brand in late 2009, she managed Chris Masters before winning the WWE Divas Championship in April 2010. She held the championship for 69 days, before losing it in June. After acting as the valet for R-Truth in late 2010, Torres won the Divas Championship for the second time at WWE Royal Rumble 2011 in January. Her second reign lasted until April 2011. The following year, she was given the fictional role of "Executive Administrator" of Raw and SmackDown, and later the Assistant General Manager of SmackDown. At WWE Night of Champions 2012, Torres won the Divas Championship, becoming the first person to win it on three occasions, and held the title until January 2013.
Following her Divas Championship loss, she retired from WWE to focus on her role as an instructor for the Gracie Women Empowered Self-defense program. In 2014, she appeared on the television series Matador in a recurring guest role.
Ad blocker interference detected!
Wikia is a free-to-use site that makes money from advertising. We have a modified experience for viewers using ad blockers

Wikia is not accessible if you've made further modifications. Remove the custom ad blocker rule(s) and the page will load as expected.