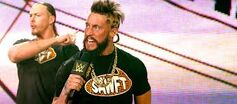 Eric Arndt (born December 8, 1986) is an American professional wrestler best known for his appearances for
WWE
where he performed on the
Raw
brand in the cruiserweight division under the ring name
Enzo Amore
.
Arndt had no prior wrestling experience before WWE signed him. He had trained with Joe DeFranco at the DeFranco's Training Systems gym in Wyckoff, New Jersey since the age of 16. By chance, WWE executive Triple H also started training with DeFranco; Arndt, a lifelong fan of professional wrestling, made a compilation video of himself doing various exercises and cutting a promo. When DeFranco showed the video to Triple H, Arndt was given a tryout at WWE, ultimately resulting in his signing. In August 2012, WWE signed Arndt, who then started using the ring name Eric Anthony. In November 2012, he was given the ring name of Enzo Amore when he debuted in WWE's developmental system NXT as a wrestler.
Amore debuted on NXT television as a heel, being described as a "stereotypical cocky, Jersey Shore loudmouth" and an "outsized version of the man playing the part", on May 22, 2013, where he was squashed by Mason Ryan. On the Raw after WWE WrestleMania 32, Amore and Collin Cassady debuted on the main roster and confronted The Dudley Boyz.
On the August 22 episode of WWE 205 Live, Amore made his debut in the cruiserweight division, confronting Cruiserweight Champion Neville, beginning a feud with him in the process. At WWE No Mercy 2017, Amore defeated Neville with a low blow showing signs of a heel turn to win the Cruiserweight Championship, claiming his first title win within the WWE.
On January 23 2018, it was announced that Enzo was released by WWE after Rape charges were filed against him a few days earlier.