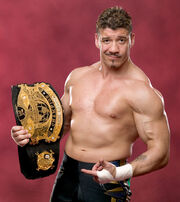 Eduardo Gory "Eddie" Guerrero Llanes (October 9, 1967 – November 13, 2005) was a Mexican-American professional wrestler born into the
Guerrero wrestling family
. He wrestled in Mexico and Japan for several major professional wrestling promotions. In the United States, Guerrero wrestled in
Extreme Championship Wrestling
(ECW),
World Championship Wrestling
(WCW), and in
World Wrestling Entertainment
(WWE). Guerrero's gimmick was that of "Latino Heat", a crafty, resourceful wrestler who would do anything to win a match. His catchphrase became "I Lie! I Cheat! I Steal!", which was used in one of his entrance themes. Guerrero partly used this phrase in his autobiography Cheating Death, Stealing Life.
Despite being a villain for most of his career, he got over in and outside the ring being the youngest, yet most popular, athletic and successful of the Guerrero brothers. Guerrero was widely regarded as one of the most respected and gifted technical wrestlers in history. Guerrero experienced various substance abuse problems outside of wrestling, including alcoholism and an addiction to painkillers. These real-life issues were sometimes incorporated into his storylines. Guerrero won 23 titles during his career, which encompassed both the WWE Triple Crown and Grand Slam (both under original and new format) championships.
Ad blocker interference detected!
Wikia is a free-to-use site that makes money from advertising. We have a modified experience for viewers using ad blockers

Wikia is not accessible if you've made further modifications. Remove the custom ad blocker rule(s) and the page will load as expected.