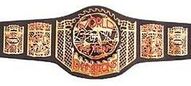 The Extreme Championship Wrestling (ECW) World Tag Team Championship was a professional wrestling world tag team championship in Extreme Championship Wrestling (ECW). It was introduced in National Wrestling Alliance (NWA) affiliate and ECW precursor, Eastern Championship Wrestling in 1992 but was established under ECW in 1994.
Vacated - July 1993
Vacated - October 1, 1993
Vacated - April 22, 2000
Deactivated - April 4 2001 - ECW closes
Return To
Edit
Ad blocker interference detected!
Wikia is a free-to-use site that makes money from advertising. We have a modified experience for viewers using ad blockers

Wikia is not accessible if you've made further modifications. Remove the custom ad blocker rule(s) and the page will load as expected.