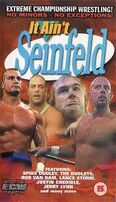 ECW Ain't Seinfeld
was a live event produced by
Extreme Championship Wrestling
(ECW). It took place on May 5, 1998 in the Elks Lodge in Elmhurst, Queens, New York City, New York in the United States. It Ain't Seinfield was held on the same evening that the final episode of the popular sitcom Seinfeld premiered on NBC, inspiring the naming of the event. The event also saw the introduction of the ECW FTW Heavyweight Championship by Taz.
Ad blocker interference detected!
Wikia is a free-to-use site that makes money from advertising. We have a modified experience for viewers using ad blockers

Wikia is not accessible if you've made further modifications. Remove the custom ad blocker rule(s) and the page will load as expected.