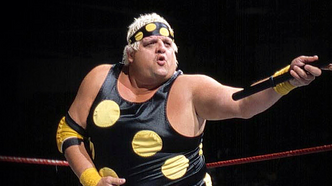 Virgil Riley Runnels Jr., better known as "The American Dream" Dusty Rhodes (October 12, 1945 - June 11 2015), was an American former professional wrestler and trainer who worked for
WWE
. He made occasional on-air appearances on other WWE television and pay-per-views and works as a backstage booker and producer in WWE's
NXT developmental territory
. Billed as "the son of a plumber", Rhodes' character was that of the American working man, particularly in promo videos such as his famous 'Hard Times'.
Rhodes is a three-time NWA World Heavyweight Champion, and during his time in Jim Crockett Promotions (the forerunner of WCW), he was a former United States Champion, and multi-time Television, World Tag Team, and Six-Man Tag Team Champion. He has also won many regional championships during his wrestling career.
He is one of six men inducted into each of the WWE, WCW, Professional Wrestling, and Wrestling Observer Newsletter Hall of Fame. He is the father of professional wrestlers Dustin "Goldust" Rhodes and Cody "Stardust" Rhodes they both currently wrestle for WWE.
On June 10, 2015, emergency personnel responded to Rhodes' home in Orlando, Florida, on Wednesday morning after getting a call reporting he had taken a fall. Rhodes was then transported to a nearby hospital where he eventually died. Rhodes is survived by his four children, including Cody Runnels and Dustin Runnels, along with his wife.
Ad blocker interference detected!
Wikia is a free-to-use site that makes money from advertising. We have a modified experience for viewers using ad blockers

Wikia is not accessible if you've made further modifications. Remove the custom ad blocker rule(s) and the page will load as expected.