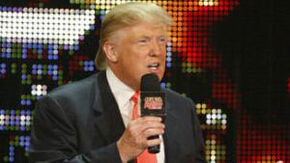 Donald John Trump (born June 14, 1946) is an American real estate developer, television personality, business author and political candidate. He is the chairman and president of The Trump Organization, and the founder of Trump Entertainment Resorts. Trump's career, branding efforts, lifestyle and outspoken manner helped make him a celebrity, a status amplified by the success of his NBC reality show, The Apprentice. On June 16, 2015, Trump formally announced his candidacy for president of the United States in the 2016 election, seeking the nomination of the Republican Party.
Trump is a known World Wrestling Entertainment fan and friend of WWE owner Vince McMahon. He has hosted two WrestleMania events in the Trump Plaza and has been an active participant in several of the shows. Trump's Trump Taj Mahal in Atlantic City was host to the 1991 WBF Championship (which was owned by WWE, known at the time as the "World Wrestling Federation"). Trump was interviewed by Jesse Ventura ringside at WWE WrestleMania 20.
He also appeared at WWE WrestleMania 23 in a match called "The Battle of the Billionaires". Trump was in the corner of Bobby Lashley, while Vince McMahon was in the corner of Lashley's opponent Umaga with Stone Cold Steve Austin as the special guest referee. The stipulation of the match was hair versus hair, which means that either Trump or McMahon would have their head shaved if their competitor lost. Lashley won the match, and he and Trump shaved McMahon bald.
On June 15, 2009, as part of a storyline, McMahon announced on Monday Night Raw that he had "sold" the show to Trump. Appearing on screen, Trump declared he would be at the following commercial-free episode in person and would give a full refund to the people who purchased tickets to the arena for that night's show. McMahon "bought back" Raw the following week for twice the price. His entrance theme "Money, Money" was written by Jim Johnston.
Trump was inducted into the celebrity wing of the WWE Hall of Fame in 2013, at Madison Square Garden for his contributions to the promotion. He made his fifth WrestleMania appearance the next night.
On January 20, 2017, Trump became the 45th President of the United States.