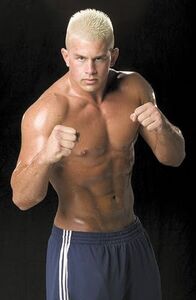 Daniel Puder (born October 9, 1981) is an American professional wrestler and retired professional mixed martial artist.
As a mixed martial artist, Puder trained at the American Kickboxing Academy, in San Jose, California. He is undefeated in MMA competition, holding a record of eight wins and zero losses. As a professional wrestler, he trained at Ohio Valley Wrestling. He is best known for having won the $1,000,000 WWE Tough Enough challenge during his time in WWE's Ohio Valley Wrestling. He has also worked for Ring of Honor and New Japan Pro Wrestling.
In 2010, he founded My Life My Power World, an anti-bullying and youth development program.
See Also