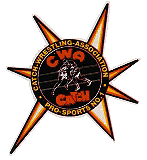 The
Catch Wrestling Association
was a professional wrestling organization based in Austria and Germany and was founded in 1973. It was formerly run by famous AWA champion
Otto Wanz
. The CWA featured a traditional brand of mat wrestling mixed with various "Strong Man" competitions. The company was engaged in talent-share agreements with other wrestling promotions, including
New Japan Pro Wrestling
and the
American Wrestling Association
. These agreements expanded the opportunities given to many European wrestlers.
CWA's biggest card was the Euro Catch Festival, which was held twice a year (it was held in Graz, Austria in the summer, while in the winter, it was held in Bremen, Germany).
Tragedy struck the promotion in December 1993, when Larry Cameron suffered a heart attack during a match with Tony St. Clair, and died in the ring.
Matches were fought using European rules, including dividing the match into rounds and having the possibility of a victory by knockout. The CWA World Heavyweight Championship was recognized as the legitimate European World Championship as counterpart to the AWA-, NWA- and WWF-titles in North America and NJPW's IWGP Heavyweight Championship in Japan.
Championships
CWA World Heavyweight Championship
CWA Intercontinental Heavyweight Championship
CWA Submission Shootfighting Championship
CWA British Commonwealth Championship
CWA German Championship
CWA World Junior Heavyweight Championship
CWA World Middleweight Championship
CWA World Tag Team Championship
Return To
Edit
Ad blocker interference detected!
Wikia is a free-to-use site that makes money from advertising. We have a modified experience for viewers using ad blockers

Wikia is not accessible if you've made further modifications. Remove the custom ad blocker rule(s) and the page will load as expected.