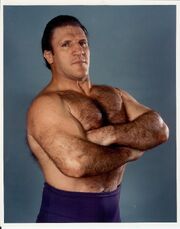 Bruno Leopoldo Francesco Sammartino (born October 6, 1935) is an Italian-born retired American professional wrestler. He is best known for his work with the
World (Wide) Wrestling Federation (WWWF/WWF)
, which is now known as WWE. He held the WWWF (World) Heavyweight Championship for over 11 years (4040 days) across two reigns, the first of which is the longest single reign in the promotion's history (2803 days).
Sammartino's wrestling style was more mat-oriented which was typical of wrestlers from his era. His brawling, power moves, and personal charisma helped him become the most popular American wrestler in the 1960s through the mid 1980s. He was inducted into the WWE Hall of Fame on April 6, 2013, by his longtime friend, Arnold Schwarzenegger.
Ad blocker interference detected!
Wikia is a free-to-use site that makes money from advertising. We have a modified experience for viewers using ad blockers

Wikia is not accessible if you've made further modifications. Remove the custom ad blocker rule(s) and the page will load as expected.