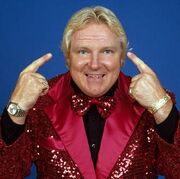 Raymond Louis "Ray" Heenan (born November 1, 1944), also known as Bobby "The Brain" Heenan, is an American former professional wrestling manager, wrestler and color commentator, best known for his time with the
American Wrestling Association
(AWA), the
World Wrestling Federation
(WWF) and
World Championship Wrestling
(WCW). He was known for his skill in drawing heel heat for himself and his wrestlers, and for his on-screen repartee with
Gorilla Monsoon
as a color commentator.
World Wrestling Entertainment
described Heenan as "one of sports-entertainment's best loved legends". Heenan was inducted into the
WWE Hall of Fame
in 2004 by
Blackjack Lanza
. Heenan also holds the distinction of being on the first episodes of both
WWE Raw
and
WCW Nitro
.
Ad blocker interference detected!
Wikia is a free-to-use site that makes money from advertising. We have a modified experience for viewers using ad blockers

Wikia is not accessible if you've made further modifications. Remove the custom ad blocker rule(s) and the page will load as expected.